On July 1st and 2nd, 2022 director of MEYS Emerging Markets Research Mr. Marco Rensma will be a guest speaker during the Invest in Africa Summit 2022 on investment and trade between Africa and Europe.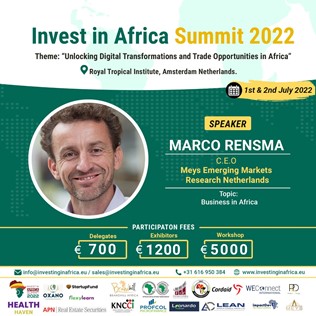 -------------------------------------------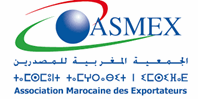 On October 14 2020 Moroccan export association ASMEX organised a webinar on doing business in the Netherlands. This was the first held webinar for Moroccan exporting companies focussing on the Dutch market and its business opportunities. Director MEYS Marco Rensma gave a presentation on the Dutch market and the opportunities for Moroccan companies.
-------------------------------------------
On April 23 and 24 2020 the 'Africa Trade and Investment Conference' will be held at the Royal Tropical Institute in Amsterdam. During this 2-day conference numerous workshops and presentations will be given about trade and investments in Africa. Director of MEYS Emerging Markets Rsearch Marco Rensma is one of the guest speakers at the conference.
For more information about the program and registration to the conference see Invest in Africa. 
DUE TO THE CORONA VIRUS THIS EVENT IS POSTPONED TO ANOTHER DATE LATER THIS YEAR